BY DR SOHA MAAD
Introduction
Covid-19 is the illness caused by the corona virus. This illness caused the death of millions around the world. According to World Health Organisation WHO Coronavirus (COVID-19) Dashboard, as of April 2021, there have been globally 133,552,774 confirmed cases of COVID-19, including 2,894,295 deaths. As of April 2021, a total of 669,248,795 vaccine doses have been administered.
Hope for the end of the pandemic started to loom in the horizon with the discovery of vaccines with long term efficiency yet to be proved.
This article sheds light on latest developments in COVID-19 vaccines technologies. These developments are put together and consolidated in a vaccine technology framework proposed by the Union of Arab Banks. This framework embraces COVID-19 vaccines knowledge repository, tracking dashboard, technologies, policy and guidance, production, operation, and impact on GDP, stock market, and various economic sectors. We conclude with recommendations to empower the vaccine technology framework in a global digital economy and GROW, BUILD, and DEPLOY the supporting global digital economy platform.
VACCINES BASICS
The World Health Organization WHO informs that vaccination is a simple, safe, and effective way of protecting people against harmful diseases. It helps the body to build resistance to specific infections and strengthen immunity. Vaccines train the immune system to create antibodies when exposed to a disease. Most vaccines are given by an injection, but some are given orally or sprayed into the nose.
COVID-19 VACCINES DASHBOARD
Gavi, The World Vaccine Alliance, tracked COVID-19 vaccines developed so far. According to Gavi sources, as of January 2021, two hundreds novel coronavirus vaccine candidates are under development, of which 64 are in clinical trials.

The most widely used vaccines are developed by the following firms:
Pfizer and its German-based partner BioNTech

Moderna

Johnson & Johnson's and Janssen Pharmaceuticals

AstraZeneca made with a team at Britain's University of Oxford

Novavax: Maryland-based biotechnology company

Sanofi and GlaxoSmithKline

Sinovac and Sinopharm Chinese company

Sputnik V developed by Russian researchers
COVID-19 VACCINES TECHNOLOGIES
Various technologies were used in covid-19 vaccines innovated to date. These technologies are described in the following table.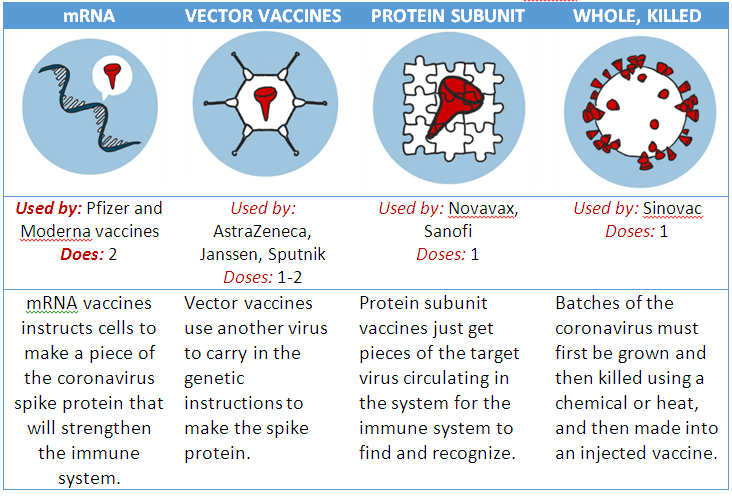 MIT technology review, compiled an annual selection of the year 2021 most important technologies changing our lives. COVID-19 vaccine technology, mRNA was on the top of the list of these most important technologies.
VACCINE PRODUCTION
The World Health Organization WHO, The Centre for disease control and prevention CDC, UNICEF, and various healthcare authorities around the world are developing blueprints for various vaccines. These blueprints give the following information about vaccines and can be accessed online:
Overview of vaccine producer and development

Number of vaccines produced so far and supplied to the world

Doses required at various time intervals

How it is taken (oral, or injection, or other)

Storage requirement

Approval by authorities and countries around the world

Trial stage

Side effects

Long term impact

Repeating frequency (how often we need to retake the jab to stay immune)

Uptake and acceptance by various communities

Underlying technology

Contributing manufacturers and labs

Other info
There has been huge efforts from world organization and authorities to encourage people to take vaccine but some people around the world still have fears and concerns about vaccines side effect, impact on the body, short term and long term efficiency, and other concerns in respects of use, production, and appropriate supply.
VACCINE SUPPLY
KPMG analysis reveals that the emergence of COVID-19 vaccines has generated immense excitement, but healthcare systems around the world now face the complex task of securing and distributing supplies and administrating vaccines. Acquiring sufficient quantities is just the start. The vaccines must then be transported safely to multiple destinations, maintained at the right temperature, and tracked at all times to avoid tampering and assure product integrity and delivery.
The World Economic Forum foresees that vaccines to be effective in containing the pandemic, they must be made widely available across the globe in a short space of time, which is putting increased pressure on governments, multilateral organizations, manufacturers, supply chain companies and community organizations.
According to ESRI, the producer of the world's most powerful mapping & spatial analytics software, and the International Air Transport Association, approximately 25 percent of shipped vaccines are compromised due to poor temperature management.
VACCINE GUIDELINES
The World Health Organisation WHO and UNICEF put the COVID-19 vaccination supply and logistics guidance in February 2021. The guidance provides details about vaccines profiles, supply strategies, COVAX Supply Chain , preplanning, core functions and logistics, deployment, operations, reception of vaccines, storage of vaccines, repackaging vaccines, production or purchase of coolant packs, transportation of vaccine, reverse logistics, managing recalls, management of supply chain information, traceability and vaccines rapid information, securing the supply chain, budgeting and financial management, vaccine store infrastructure and power requirements, health care waste management, human resources training, capacity building, and assessed country preparedness activities.
The COVID-19 Tools Accelerator COVAX facility is co-led by CEPI, Gavi and WHO, alongside key delivery partner UNICEF, and PAHO Revolving Fund America procurement agent for COVAX. COVAX aims to accelerate equitable access to appropriate, safe and efficient vaccines for all countries.
VACCINE POLICIES
According to CNN news, Microsoft, Oracle and other tech giants teamed up to develop Covid-19 vaccine passports. Biggest tech firms and health care organizations have joined together in the Vaccine Credential Initiative that ensures that everyone has access to a secure, digital record of their Covid-19 vaccination. This digital record is like a digital vaccine passport and can be used for everything from airline travel to entering concert venues. The coalition comprises a broad range of health care and tech leaders including Microsoft, Salesforce, Oracle, CERN, Cigna, Epic and the Mayo Clinic, and others.
IMPACT ON STOCK MARKET
According to the Guardian news, Pfizer chief sold $5.6m of shares on day of Covid-19 vaccine announcement.
CNBC news foresee that COVID-19 vaccines are creating market winners and losers and sparking optimism that the pandemic end may be approaching. Analysts see that vaccines are fuelling hope of a return to normal soon.
With wide vaccine rollout, it is expected that some sectors will benefit more than others. Possible winners include the aviation, the retail, the estate, followed by office and hospitality sectors.
IMPACT ON GDP
FOX news forecasts that coronavirus vaccine will drive to economic re-bounce and restore economic growth. Strategists expect 6% growth in global GDP.
RAND research estimated economic re-bounce and the impact of COVID-19 vaccines on global GDP change as follows:
In world without vaccine the expected Global GDP change is –$3.45 Trillions

In nations with vaccine access the expected Global GDP change is –$1.23 Trillions

In all high income nations with vaccine access the expected Global GDP change is –$292 Billions

In all high and middle income nations with vaccine access the expected Global GDP change is –$153 Billions

IMPACT ON DIGITAL DIVIDE
Covid-19 vaccine rollout revealed a digital divide problem around the world from unequal internet access. World organizations and authorities stressed the importance of digital literacy and closing the digital divide as everything from school to work shifted from physical to virtual interactions. Those without access to reliable internet or devices at home are not able to keep up with the pandemic challenges.
THE WAY FORWARD IN A GLOBAL DIGITAL ECONOMY
Large scale pandemics cannot be totally avoided but technologies of the digital economy can help in various respects:
Innovation in vaccine production;

Developing secure data infrastructure for digital vaccine passport;

Improving the global supply chain of vaccines world roll out;

Raising awareness and prevention;

Innovation in gadgets production

Bridging the digital divide

Adapting design to new life style like work from home
The suggested way forward for a strong immune digital economy is to GROW – BUILD – DEPLOY a global digital economy platform empowering the vaccine technology framework, as detailed below: 
GROW
Grow knowledge and expertise in digital technologies for vaccine production.

Grow policies for digital passports with vaccine data records.

Grow finances to support innovation.
 BUILD
Build digital apps and gadgets for vaccine production and illness prevention.

Build secure and high quality global data infrastructure that can help in sharing and analysing vaccine data.
DEPLOY
Deploy apps developed for free use by healthcare authorities, producers and developers of vaccines, and the population at large. These apps include:
Vaccine global supply chain management apps

Vaccine planning apps

Dashboard apps to track infection and vaccine supply

Design apps

Infection Tracking apps

Vaccine Production apps

Vaccine digital records apps

Vaccine decision support apps